Hey girls,
So, this is the post you have been waiting for (I think)! So, as you know, Halloween is right around the corner. Whoa. Time has passed by really fast. It's really crazy, but that means that Halloween is coming, which means a chance to show off some super cute costumes.
In this post, I will show you two group costumes and three individual costumes. I haven't mad any of these, these are just costumes I really love and that might get your creative juices running. So, here are some costumes:
INDIVIDUAL: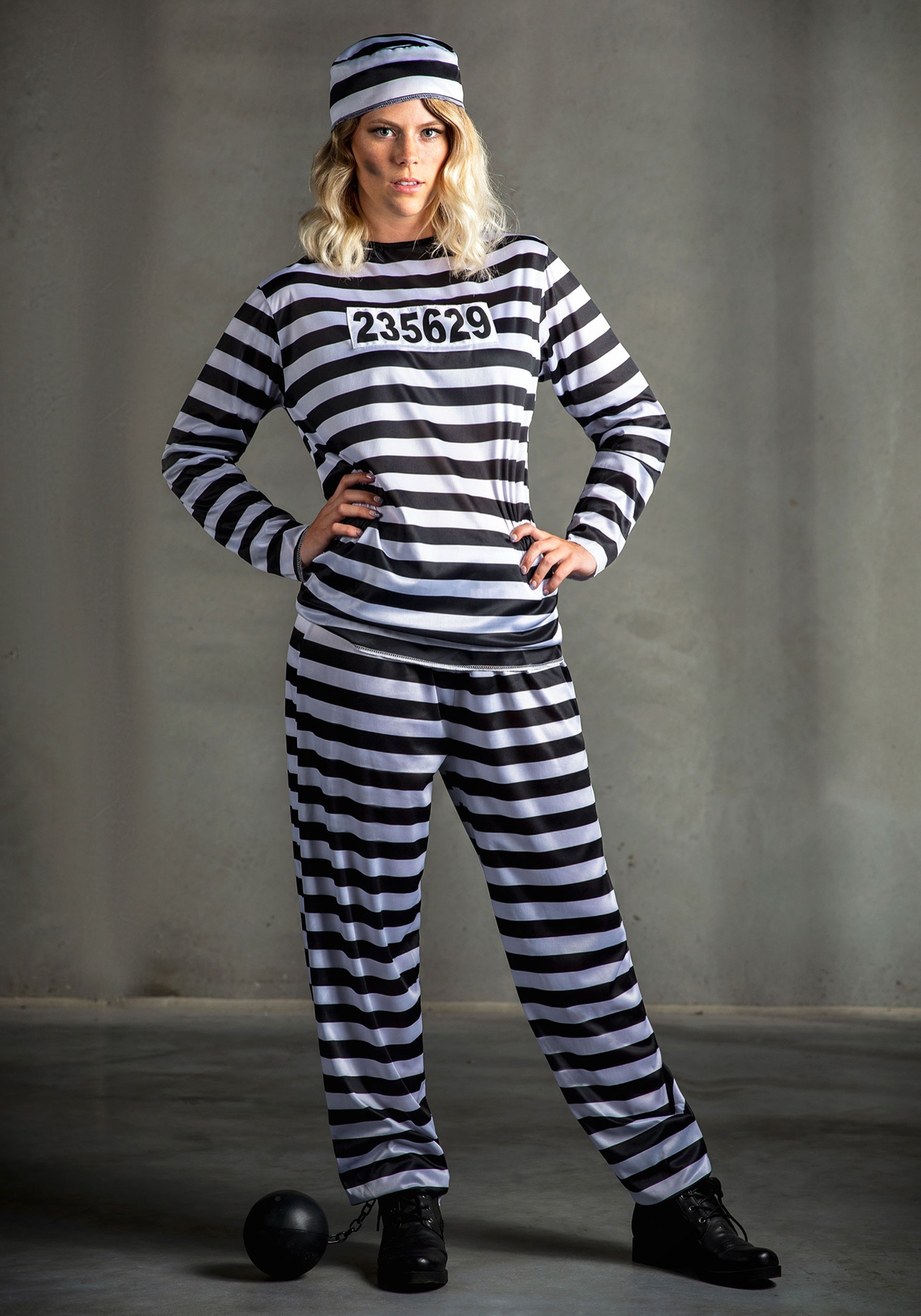 The reason why I like this costume is because it is daring yet cute (except for those horizontal stripes! Well, that;s the price you pay on Halloween). Combat boots would go great with this, and a pair of handcuffs and a ball and chain (as shown) would completely cinch this outfit. Remember: Just because you might be a prisoner for Halloween doesn't mean you can commit to it for life! Anyway, this costume would so be great for Halloween. I love this one!
This is a great costume! Actually, I'm going as a flag this year! Whichever flag you can find would be great. Pair it with some knee-high white boots and black, gray, or white tights, and you have a done deal! It is super cute, and I absolutely love the single longer sleeve! You could even tone it down and wear it on a normal day (it would be a risky choice, but it just might work). It is very short, so remember to wear it with tights. This is totally a great costume.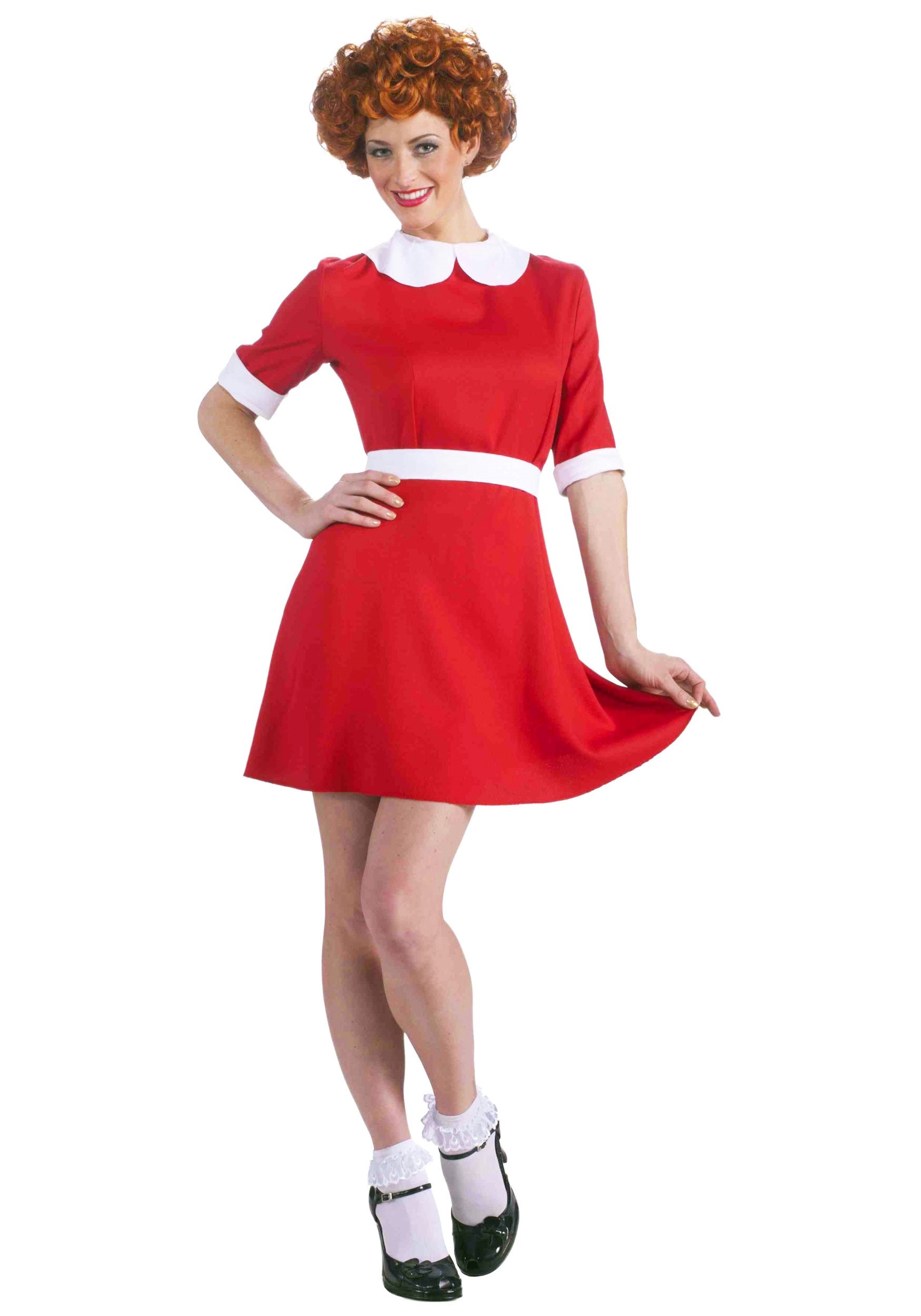 Annie, that spunky redheaded orphan, known from her movie Annie, is the perfect girl to be for Halloween! Her dress has a super cute Peter Pan collar and you can wear it with pumps with white socks as well. It is a great outfit for Halloween, and there is no doubt that people will know who you are! Carry a stuffed dog (or if you have a dog, use your dog, that way they can get exercise and be an adorable live prop at the same time) and you will have a Sandy to your Annie! This costume is a timeless classic, and I love love love it. And don't worry, if you don't think you can pull of the red hair (I know I couldn't ;D), you can still wear the dress.
Now these next costumes are for a group of people to wear. I hope you like them!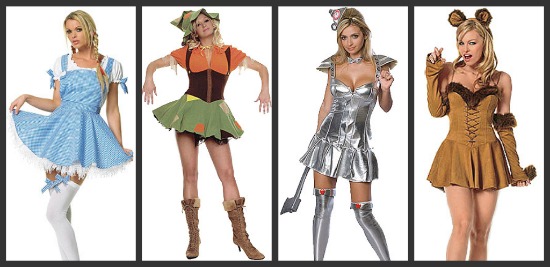 From left to right, here are the characters: Dorothy, Scarecrow, Tin Woman, Cowardly Lion. This costume may be a little overused, but I still like them. I love The Wizard of Oz, and maybe someone can dress up as Toto or even Oz! Feel free to be creative, these are only ideas. I really think this is a good group costume for Halloween. Plus, Dorothy's socks are really cute! :) And if you don't like them this revealing and short, you can make your own or buy different ones!
I really really like this idea!!! For this one, I couldn't actually find a site to order them off of, so this one is homemade. However, for this costume, I do suggest buying a plain (long) women's sweatshirt in the color of your ghost, and sewing on eyes. You can wear that with leggings on Halloween, and that could still be causal cute on any other day, because graphic sweatshirts are sooo in. I really love this idea!!! One person can even be the Pac Man cherries! Super cute! :)
So this is a list of costumes I think would be perfect! But remember, these are just ideas. You can be anything you want. Happy Halloween! Love you! :) :) :)
Hope you liked this post,